According to new findings, 85 percent of major corporations and 55 percent of small and medium businesses have used some form of ERP solution or have an ERP solution company by their side? Did you know that?
Well, this is because all businesses mainly focus on:
Increasing productivity: Designed to streamline internal operations by implementing software to achieve greater efficiency, and connecting company solutions so that they can communicate with one another.
Reducing Costs: Creating processes to reduce man-hours of work in order to optimize time. Employ online software for company management to increase efficiency and productivity.
This is made feasible by using ERP and ERP solution company, which makes it easier to complete tasks quickly, easily, and flexibly.
What is an ERP ???
ERP stands for "Enterprise Resource Planning," or enterprise resource planning system. Erp solutions are not only systems that incorporate the different departments within an organization; they are also one of the basic pieces, as they allow us to manage all aspects of administration, purchases, sales, payouts, and payroll, among other things.
The EPR is responsible for managing and regulating the organization's resources, procedures, and operations, as well as automating many operational and creative tasks.
It's crucial to remember that not all ERPs are created equal. They will require one form of ERP software or another, based on the scale of the organization and the work space.
ERP types are classified by their design:
OpenSource
Customized
Pre-made
Pre-defined
Premises
Cloud computing
ERP's Importance in Organizations
Streamline processes inside the company.
Improve the information access procedure.
Remove data duplication.
Simplify the organization's administrative functions.
Enhance the decision-making methods.
They are in charge of the organization's payments, payrolls, and inventories.
Internal communication should be improved.
Automate routine jobs.
Let us discuss ERPNext.
It is an open source ERP system with a public license that can be configured to fit the needs of enterprises of all sizes and includes modules such as:
ERPNext has the following modules:
– Bookkeeping
– CRM (Customer Relationship Management)
– Inventory control
– Purchases – Sales
– Initiatives
– Human Resource Management
– Candidates
– Others
One of its primary characteristics is that it is very adaptable and expandable; you can design custom forms and applications to extend ERPNext's capability.
This ERP maintains a setup wizard through which all goods, clients, suppliers, and modules are produced, and ERPNext also enables you to examine the relationships that exist between the various modules, as you can go right from a purchase agreement to the development of a receivable account.
Features of ERPNext
It is adaptive and adjustable to any form of business especially ERP for small business is just very helpful. It is mostly constructed with Python, Javascript, Node JS, and Redis, and it has its own framework called Frappe. It uses the Mariadb database. – It has its own API that may be used. – All of the code can be changed. – Only the necessary modules can be adopted. – In charge of quality assurance. – It's entirely free. – It is free and open source. – It has its own mobile app. – It supports multiple languages.
Let us walk you through ERPNext advantages and disadvantages
Advantage
– A centralized database will be used.
– It enables the organization's procedures to be optimized.
– It can interface with other systems due to its versatility.
– It enables the organization to standardize its processes.
– Make the decision-making process more efficient.
– It enables the organization's organized growth to be planned.
You can upload or validate information at any time and from anywhere using your mobile application.
– It enables continuous communication between clients and suppliers.
– The information examined is up to date and completely trustworthy.
– Data duplication is eliminated.
– Does not cover the cost of the license
– Enables you to migrate your data from your present system.
– Its download is free because it is open source, but software is not.
– It enables the creation of various user roles based on the organization's functions.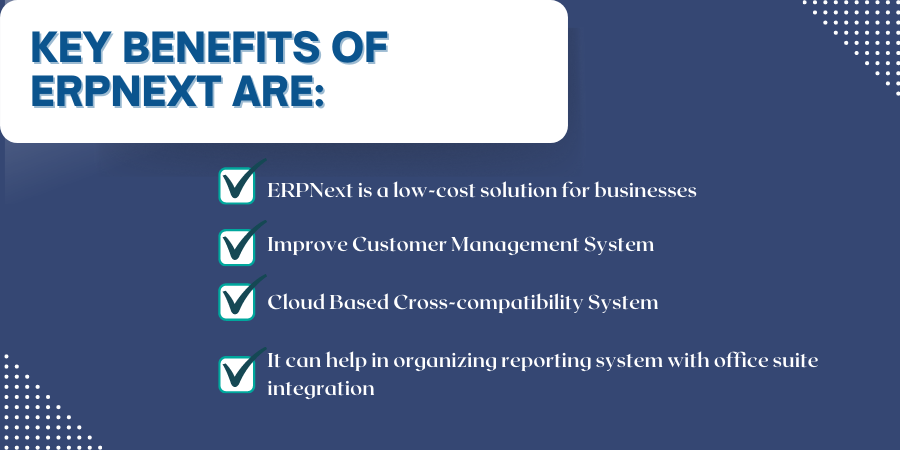 Disadvantages
– The system's efficacy is dependent on the correct input of data by the various users.
– It's hard to convince the accounting and human resources divisions because it is open source.
– Because you're on the web and need to connect directly to external devices like fiscal printers, you'll need to create a bespoke integration with desktop applications.
To Conclude!
Overall, we can claim that ERPNext is a very comprehensive ERP because of the versatility it provides users in terms of being altered and connected to other systems of the organization.
Even if you compare Odoo vs ERPNext , which we have done in our previous article, you will find ERPNext to be winning the best ERP solution's race.
It can be made available from their mobile application, keeps in touch with all departments, free expression roles for each user where the same is responsible for carrying out assigned work, and it is friendly, economical, and simple to use. To make your business function smoothly, it is best to hire an ERP solution company.
Summary
ERPNext is a well-known open-source ERP system that has been around for a while. Many firms, both small and large, use it. There are numerous crucial details to understand about the same, such as benefits, drawbacks, and characteristics. This detailed overview covers everything. Stick with the article until the conclusion to learn more.