The e-commerce industry is a land of opportunities that faces new technologies and innovation every day. If you can exhaust these opportunities, you will be able to take your e-commerce brand to a prestigious position. Here we will discuss the aspect regarding Magento-a e-commerce website building in building a PHP platform. However, brand owners often find it difficult to decide whether to hire a Magento Developer or a Magento development company before implementing Magento software. The time has come when you should end this confusion!
How to proceed?
Let's keep everything very simple. When you search for any Magento Developer or any Magento development company; you begin your search with certain expectations. Before you take any decision, take a notepad and write down some points regarding your goal-
What is your project's need? Is it a particular set of tasks or a full-time job?
Is it about short-term bug-fixing jobs or backing a whole system by solving continuous problems?
Is it about short-term bug-fixing jobs or backing a whole system by solving continuous problems?
Step-2
Now as you have known what you want, now you have to consider the following points to select the best option to launch your e-commerce store.
Understand the need for your project
Before choosing a single developer or an ecommerce website development company, you need to understand your project's requirements. Having a clear understanding of your project's needs will make it easier for you to communicate your deadlines, pricing, or work schedule to the developer.
Breakdown the whole process into stages
Break down the whole process into different stages and set a tight timeline for each stage. Hence, you will get a deeper picture of the whole system. If you want to hire freelance developers, assign them this small part of the work with a strict schedule. This is an efficient way step to handle the Magento e-commerce development project.
Sign contract
Once you have chosen your best possible option between an e-commerce website development company and a single developer, don't forget to sign a contract with them.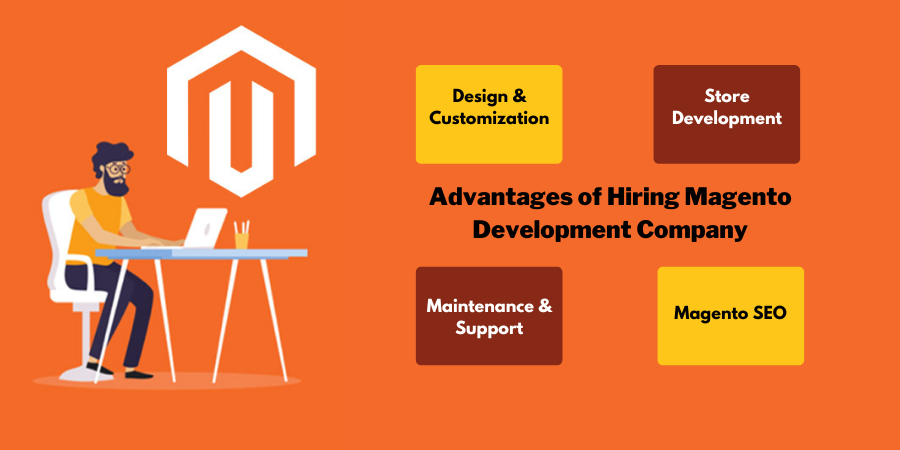 Step 3
Before hiring a developer for your Magento ecommerce development, don't forget to check out the following skill set in your developer.
Experience
Starting with current technology, a modern storefront, a trendy outlook, an efficient database, and a lot of technical things are some of the basic requirements to handle the e-commerce website effectively. Simple technical expertise will not be enough, industry experience with multiple specialists is needed.
Efficient project development
Project coordinating and developing skills are other must-have things to simply a large project work into small parts. It required a lot of efficiency. Can a freelance Magento Developer provide this efficiency? Ask before you hire anyone!
Creativity
Having soft skills is equally important as technical knowledge. Creativity is one of the most important soft skills.
Stress management
When it comes to managing the overall project in regards to budget and timeline, can a Magento development company handle the stress? Ask them all the things clearly before you take a move.
Step 4
Now you have come to a crucial point where you need to pick up one option between an e-commerce website development company and a single developer to proceed with your Magento development project.
Why a Magento development company?
Enjoy the benefits of multiple services and utilize the ultimate benefit of ready to use Magento website.
Customized approach for each project.
Get the legal benefits of signing a sound contract.
Get timely delivery of your project.
From developing, and troubleshooting to launching the web store, get end-to-end support throughout the project.
Why a Magento developer?
Charges less.
Good for handling simple projects.
Outsourcing works best when you need no specialist consultation, you just want an extra workforce.
In case you feel happy about the fact that a single developer charges less, then it is time for you to know its disadvantages as well.
The project may go wrong as outsourcing can create a chaotic situation due to a lack of control.
Freelancers may miss the deadline as they are not directly involved in it.
Difficulty in determining the cost of work and setting the most competitive price.
outsourcing can breach the privacy of work and information.

Want to get into one plan? Then choose an e-commerce website development company to handle Magento development work.
Don't wait, connect with one of the best Magento development companies in India!