Custom mobile Apps have brought a revolutionary effect on user experience and driven utility in all business sectors. It takes users through a streamlined experience to its goal and keeps things simple and in control. The study revealed the revenue from mobile apps would generate over $935 billion.
This blog is for you, in case you are still thinking about whether to take custom mobile app development services. Here we will get you covered all, form the mobile app's benefits to the future of the custom app development.
What is Custom Mobile App Development?
Custom mobile app development process refers to a method that includes step by step stages to build and launch a bespoke application to meet specific goal and requirement. The design, planning, development of custom mobile apps are created while keeping focus on target users' expectation and a custom objects.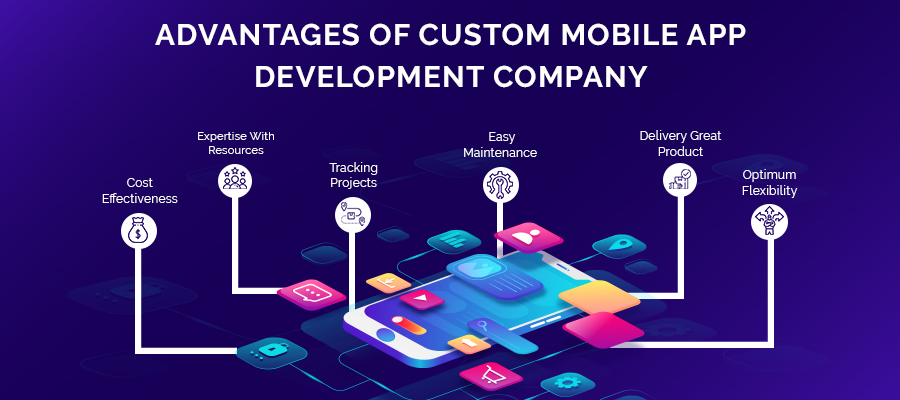 Why do Brands Invest in Custom Mobile Applications?
Almost 49 % of people check mobile apps on their phones 11+ times daily, and smart phone users access an average of 10 apps per day. Hence, it self-explanatory that mobile apps create a wide path of opportunity to boost brand reach to the target users.
Hence, Business owners are now making prudent decisions to invest in custom mobile application development. It saves overall cost by reducing expenses on irrelevant addons or integration.
What are The Benefits of Custom Mobile App Development?
•    Tailored to Solve Specific Business Problems
Brands build bespoke mobile apps to get relief from some specific pain or to meet certain expectations. Hence its tailor-made features do not wait to solve a problem; it make this happen instantly.
•    Advanced Efficiency and Productivity
Personalized mobile app development creates the best user-focused mobile apps that speed up manual tasks, elevate overall productivity, and advance the existing system. It also saves the business operation cost.
•    Improved User Experience
These custom mobile apps come with branded features, intuitive designs, and engaging and user-friendly interfaces that improve the overall experience of users.
•    Improved Security Features
Tailor-made mobile applications offer elevated security features with end-to-end data encryption and authentication. It gives freedom to users to take charge of their data confidentiality.
•    Elevated Flexibility, Credibility, and Scalability
The unmatched flexibility and in-built capacity to adapt to the changes of growing businesses make custom mobile applications' features stand out. These apps can be updated quickly as per the need.
•    High-level Integration
This custom mobile app can fit any existing business system and software and enables the system to make automotive internal changes. It improves the efficacy of the existing system with seamless data exchange.
•    Cost-effective Option with High ROI
The upfront cost of custom mobile app development services can be a little hyped, but in the long run, it returns high ROI by creating a unique competitive advantage for the brand.
•    Advanced Customer Engagement
The personalized mobile application bridges the gap between the customer and the brand. Hence, the brand can offer attractive discounts, give away, push notifications, customized plans, and many more things directly to the target users.
These practices boost customer engagement, develop a personal bond with customers and positively impact sales.
•    Streamlined Data Collection and Analysis
Customized apps create customer data from users' behaviour, shopping pattern, and preference. It helps brands to make data-backed managerial decisions and take more innovative approaches to develop business.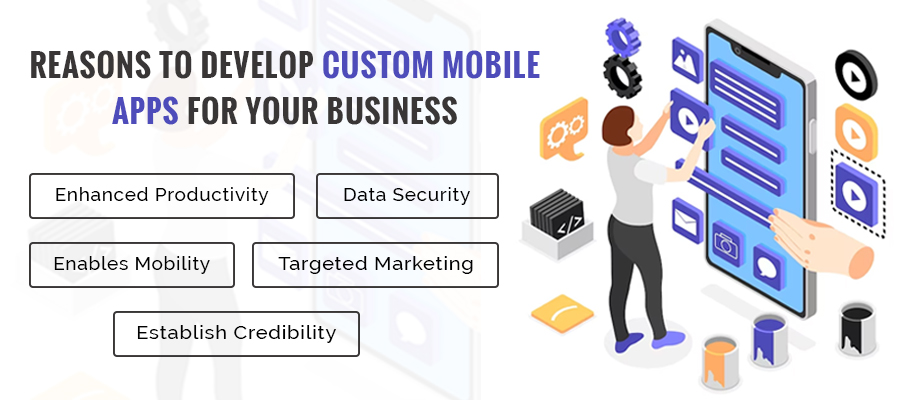 How Does Custom Mobile app Marketing and Promotion Strategies Help Business to Grow?
" The global mobile marketing market was worth US$ 17.6 billion and is expected to grow to US$ 91 billion by 2032, with a CAGR of 17.8% between 2022 and 2032" [ Persistence Market Research]
The thriving market of mobile app implementation plans is rapidly growing, and it's not surprising that it will become one of the reliable sources of brand communication.
Mobile app marketing is critical as it plays a vital role in boosting the market penetration rate for the brand. It allows brands to boost brand visibility and explore new opportunities by attaining growth.
Here are some ways in which mobile marketing help business reach the target height!
•    Elevate Brand Visibility
Mobile app promoting technique improves the online visibility of brands and makes them findable by a wide range of audiences. Plus, brands can boost the reach of target leads by promoting those apps on social media platforms.
•    Boost Sales and Revenue
Mobile apps boost the overall sales for brands and make a positive impact on their revenue. Its convenient and personalized features like easy checkout, custom payment modes, and features improve overall buying decisions. It helps a brand to generate revenue with upselling and cross-selling techniques.
•    Help in New Customer Acquisition
Custom mobile apps help businesses to attract new leads by conducting referral programs, listing app stores, and bringing out the most out of the reach of app review platforms. These mobile app marketing efforts create interest among users and stimulate their decision to become loyal customers.
•    Engage Existing Customers
With push notifications, personalized recommendations, and retargeting ads, these bespoke apps engage existing customers and improve the customer retention rate.
•    Aid in Business Development
Custom mobile app development services make custom apps that collect data from customers' behaviour patterns. It helps brands to innovate new ideas to develop the business in the right direction.
The Future of Custom Mobile App Development: How the Next-Gen Mobile App Will Support The Business Growth in the Future?
As we know, AI is already taking place in the market and speeding up the operation of the business with automotive processes. Hence we can expect more advanced integrated features, intuitive design, and increased automation from the custom design. These features will help brands to attract and stratify more customers with tailor-made approaches.
Expected features of the new gen custom apps
 Integration of augmented reality, virtual reality, and virtual assistants
The seamless process with more personalized UX design
Improved customer experience for the target demography with the support of regional  language and culture
More proactive actions based on feedback and continuous improvement.
We have a tailor-made customer support system.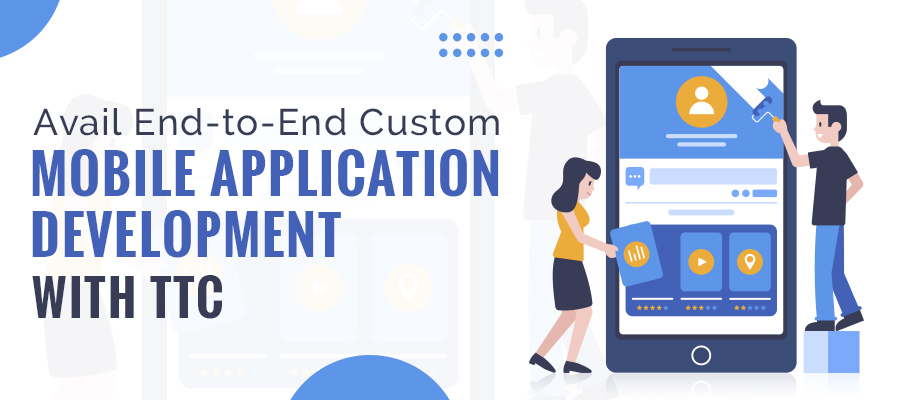 Are You Finding A reliable Mobile App Development Company in India?
Contact our custom mobile app development company today to turn your imagination into reality with a tailor-made branded application to start your mobile marketing journey!