These days, brands offer a range of products through ecommerce stores. It creates convenience for people and leverages this opportunity to earn bucks. Data revealed that 21.2 % of retail sales will happen online by 2024 and online sales will make up 31 % of B2B sales by 2024.
Have you decided to build your ecommerce store to boost profit? Finding the best ecommerce store is a crucial task that you should do next.
What about considering Odoo and Shopify? Which one will generate high leads and conversion on your ecommerce store? Get all answers in this blog by delving into the discussion on Odoo vs Shopify with us!
Let's start then!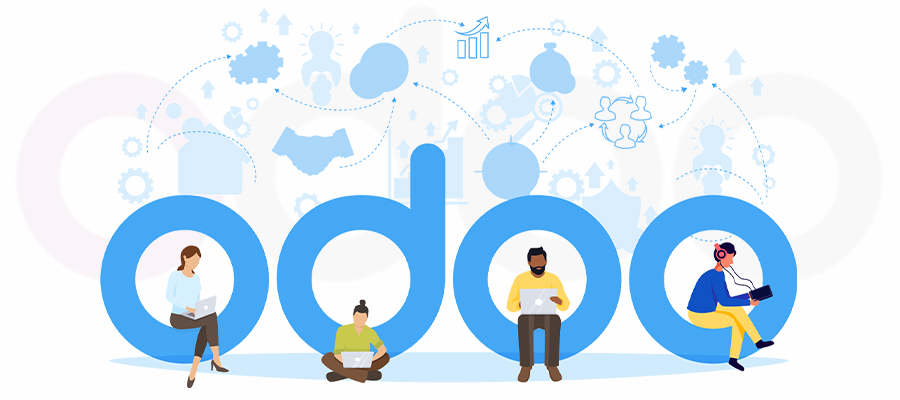 Oddo Vs Shopify: All You Want To Know
What is Odoo?
Odoo is an 'Integrated Enterprise Resource Planning software solution'. It streamlines the strategic planning, resource allocation, and performance control of an organization and boosts its profit.
Odoo is an open-source software. That means Odoo's source code is visible and accessible to its broad user base. So, anyone can access thecode with ease. Odoo ecommerce seamlessly runs on the majority of leading operation systems and is based on Python scripting and PostgreSQL. Its DBMS is compatible with open source.
However, Odoo ERP is now also available in two versions: the community version and the subscription-based enterprise version. The enterprise version is available in web browsers, where its open source version available in GitHub.
Oddo offers a wide range of integrated modules and apps. They include CRM modules, marketing modules for ecommerce, accounting, financial modules, human resources, and warehouse and project management.
Why To Choose Odoo?
Here are the best features of Odoo that you should consider while discovering Odoo Vs Shopify:
Odoo Apps
Odoo apps offer an end-to-end solution with the following modules. It covers CRM, sales, Manufacturing, warehouse, project management, Inventory, helpdesk, planning, website and ecommerce, marketing, HRM, POS, timesheet or reporting, etc.
Odoo CRM
Odoo CRM offers a dashboard that shares a real-time update and automates the CRM and sales process. It allows faster and more accurate forecasts for your sales processes.
Odoo DMS
Odoo's document management system streamlines the paperwork with automatic processes. It creates, integrates push or manages documents through a centralized document management system.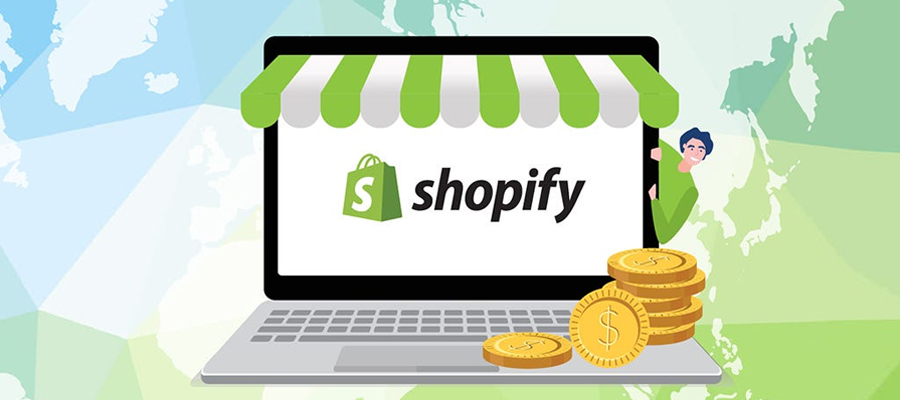 What is Shopify?
Shopify is a 'complete ecommerce platform'. It supports sales in person, web, mobile, brick-and-mortar stores, or even across multiple channels. Shopify ecommerce capabilities are immensely powerful.
Shopify is a cloud-based and hosted platform where anyone can build and start selling products immediately. The flexibility, global reach, ease of integration, and ready-to-use features make Shopify an on-the-go option for ecommerce brands.
Shopify offers three product layers such as core products, additional products and services, and app-built features.
Why To Choose The Shopify?
Easy to Access tools
Shopify offers out-of-the-box features and easy-to-access tools to its users. It removes complexities and seamlessly converts ideas into business.
Best SEO Features
Shopify SEO features improve website ranking on organic searches and improve visibility. It elevates the reach of the Magento website to a mass, drives targeted traffic, and improves sales in ecommerce sites.
Shopify Drop shipping
Shopify offers multiple features that connect wholesalers across the globe. It will help companies that run drop shipping services through ecommerce sites. Unlike manufacturing business or trade selling, this business model does not need any warehouse. It lists its products on its website, take order, and sell the products from third-party suppliers.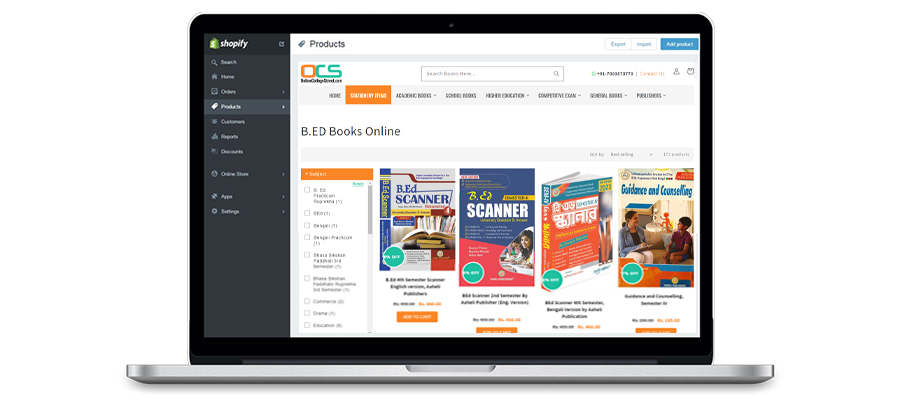 Access to the Best Analytics tool
Shopify offers access to the best analytical tools that measure performance and success for, marketing activities. Shopify's dashboard showcase core key performance indicator of ecommerce success.
Shopify App Store
Shopify app store is another core reason that drives the attention of most high-performing brands. It offers various applications, and plugins to extend the ecommerce capabilities. Some of the most famous Shopify apps are :
– Matrixify for store management
– Event ticketing for store management and store design
– Bulk discount code bot for marketing and conversion
– The stage for live shopping
User-friendly interface
Shopify is a user-friendly platform that remains easy to use and operate for nontech users. By using drag and build, newbies without coding skills can build stores easily.
Odoo vs Shopify: Which is Best For Ecommerce Development?
Shopify development or choosing Odoo, Which one is best for your ecommerce brand. Here is a quick comparison on Odoo and Shopify. So, let's find the answers.
Set up and Customization
Shopify can be developed simply by doing drag and drop, it is that much easier. SME brands can create highly customized shops on Shopify and earn a competitive advantage over stiff competition.
On the other hand, Odoo set up a customizable website. It streamlines the work process and adapts to the pace of SMEs easily.
Payment Methods
The checkout process in Shopify offers a streamlined checkout process. It is easy to navigate and hence eliminates the cart abandonment rates. In other words, the Shopify store offers seamless payment and checkout processes.
On the contrary, Odoo supports Odoo payment or payment providers' websites or third-party integrations for reward points or gift card options.
Inventory Management
With Shopify store development, you can enjoy getting low-stock alerts and real-time updates on inventory. Plus, it offers multichannel inventory management, demand forecasting tools, and an easy tracking system.
On the other hand, the robust features of warehouse management, demand forecasting, and stock quantity of Odoo reduce the overall cost of inventory management.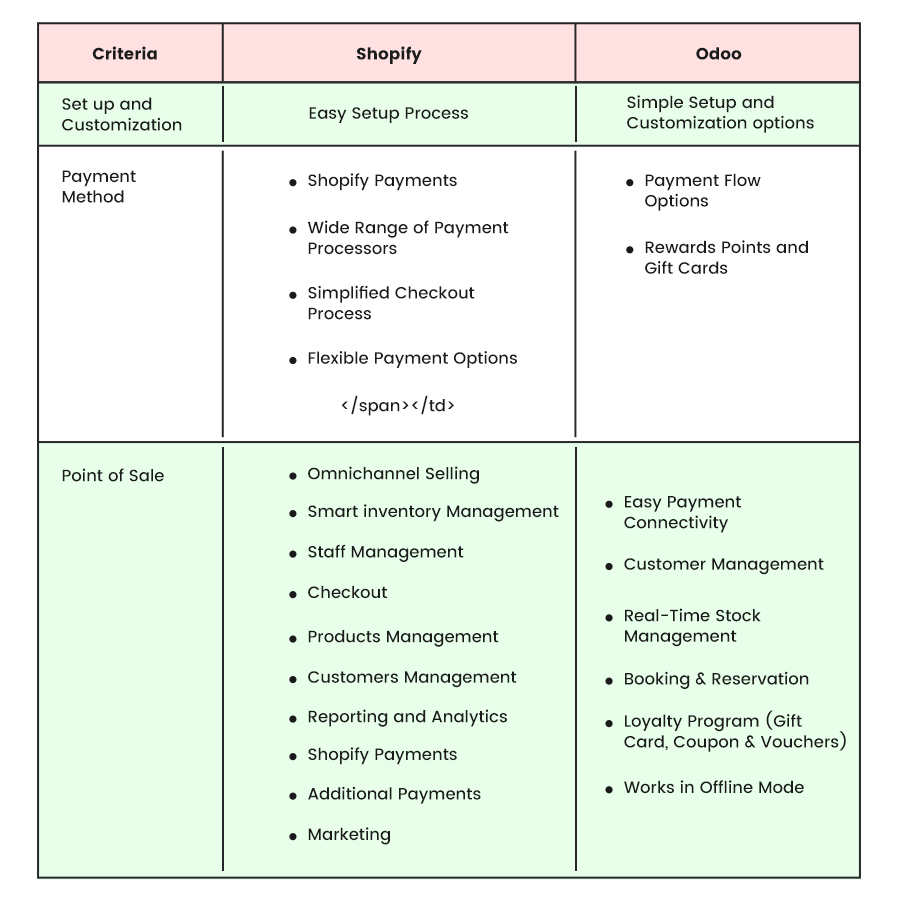 Shipping
Shopify shipping features offer bespoke features to set shipping rates, drop shipping, and seamless integration to shipping management tools.
On the other hand, Odoo offers shipping support with the ease of setting customized shipping rules for brands.
Marketing
Shopify app store comes with several apps that ease the marketing conversion process for ecommerce brands.  On the other hand, Odoo's marketplace integration, coupon code, discounts, and promotions are some of its major conversion and marketing features.
Customer Support
Shopify offers a reliable resource with FAQs, community support, and 24/7 customer support through live chat and emails.
On the other hand, Odoo also provides support to users through various channels and a help desk.
Point of Sale (POS)
Shopify's Omni channel presence creates a powerful and easy to access point of sale for every kind of business. Some of the best features in Shopify's POS are
– Omni channel selling
– Staff management
– Inventory management
– Reporting and analytics
– Customer management
– Growth tool support
– Centralized selling
– Built-in tools
On the contrary, Odoo offers the following POS features to users,
– Intuitive display
– Rewards to loyal customers
– Cross channel selling
– Availability across almost all devices
– Flexible invoicing
– Integrated and offline payment
Final Verdict: Odoo  Vs. Shopify For Ecommerce
Both Odoo and Shopify have separate user bases due to their specialties in features. Before you choose between Shopify and Odoo, make sure you know your business requirements well.
Shopify supports growth to small or mid-sized enterprises, whereas Odoo's modules either small companies with limited needs or large enterprises. Odoo is the right choice for those businesses which has complex needs. On the other hand, Shopify's intuitive design covers end-to-end ecommerce solutions for an e-commerce brand that needs easy, quick, and streamlined features.
Still Confused? Talk To Our Ecommerce Specialist Team Now!
The TechClouds is a one-stop solution that caters to all your needs for ecommerce solutions, From planning, website building, designing, or promotion, we get you covered all. Book a free consultation or mail your query now!