Even at present, a majority of IT firms still use internal servers. As a result, their day-to-day functions and core services stand on the strength of the server. The slowdown of servers or downtime can hamper the flow of work and even stop the core functions. As a tool for maintaining stability, server maintenance allows IT services to run smoothly.
As one of the specialist server management companies India, we call server managers problem solvers. Let's understand all the basics of Server management and maintenance services from our experts!
What is Server Management?
Server management refers to a process of maintaining and monitoring the servers of a particular internal network by managing the performance its integrated hardware and software at an optimum level.
What are Server Management Services?
The outsourcing companies having expertise in server maintenance and management provide 24X7 & support to run servers consistently without any slowdown.
In case the company has no technical expert team, you can hire the outsourcing server management team as an extension of an in-house team.
How do Server Management Services Work?
Taking care of Hardware components
CPU, hard drive, and RAM are three core parts of hardware. To maintain the hardware in a workable an expert team takes care of the hardware's condition, and health and supports its flawless functionality.
Install server power backup
The experts of server management companies install a powerful uninterrupted power supply mechanism to the hardware system that backup power whenever the main power runs low or flails.
Build and maintain an operating condition for hardware
CPU, RAM, and Hard drives remain highly productive in optimal operating conditions as the surrounding temperature affects its functionality.
Software tool management
Software is another core component of server maintenance services. Onetime installation, on-time upgradation, security updates, integration, and bug fixing make software resilient and relevant.
Create data backup and data storing
Server management services create data storage and enhance the security shield by building up a strong data back system.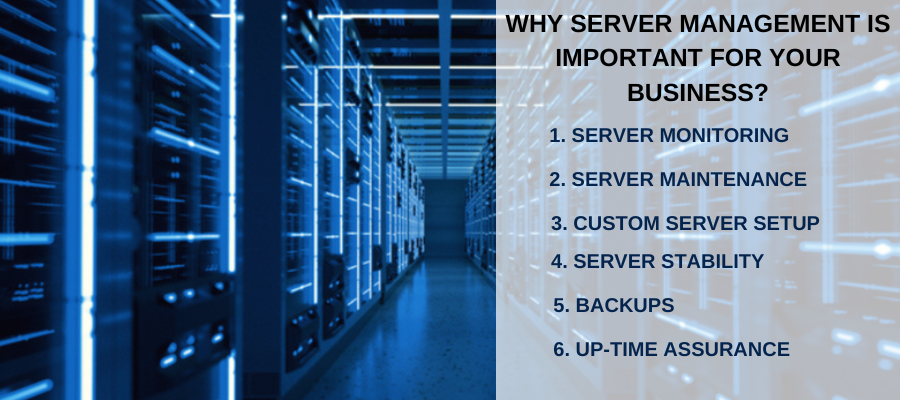 What Are The Advantages Of Server Management Services?
Proactive support and response 24X7
Server specialists remain responsive 24 X7 and come to support whenever need assistance. The modern automated mechanism detects problems even before the actual error happens.
These techniques alert the technical team to take action proactively without making fail.
Overall security management
Nowadays business data remain highly vulnerable in front of the possible system hack and data theft. The server specialist team enhances the security of the server administration by making constant gradation and system security checking.
Fix glitches in servers quickly
The fast and busy service industry needs a quick solution to troubleshoot glitches. Hence, expert solutions remain the top preference that fixes issues a lightning speed.
The specialist from server management companies India can detect and fix the failure without spending much time on error detection. This speedy recovery from downtime save time and loss from lost deals in businesses.
Constant monitoring of the overall server system
Server management teams keep the overall performance at an optimum level with constant monitoring. They monitor the overall system even when the system is not in use as once it goes out of sight, things can go wrong.
Why is a Server Important for Your Online Business?
An inhouse server improves the user experience (UX) of a website design by maintaining a faster website speed. When an online brand does not maintain a proper system with a dedicated server system, it sees a slowdown in the overall system. In such a situation, customers tend to switch to competitors' websites.
Lower speed and website loading time can affect the UX and overall SEO rank. Hence, maintaining websites with server management companies India is critical for improving online presence with steady and easy- to- accessible optimized features.
Core Server Management Services at a Glance
Hardware maintenance
Software upgradation
Data back up
Server audit
Power back up
24X& technical support
Maintaining expenditure of server maintenance
Conclusion
Server maintenance improves the quality of the frameworks in an organization's services and workflow. As it minimizes the downtime, and delays in the delivery of the project and boosts the confidence to take on challenges of exciting projects without giving much thought to technological uncertainties.
Now, this is your turn to switch to a more productive zone with the best services management services with us today!