We know that, User experience (UX) and User Interface (UI) are the two most crucial aspects behind a modern brand's success. These strategies make customers happy and impressed and intrigue them to learn more about a brand.
Website design is one of the core parts of both UX and UI. Hence, ignoring website design means delaying growth and success. You will be surprised to know that 94 % of a brand's first impression happens based on its website design. Hence, poor website design hurts the user experience and the overall reputation of a brand.
Why web design is important? How can you get a professionally designed website with a custom website design service? Get all queries answered here!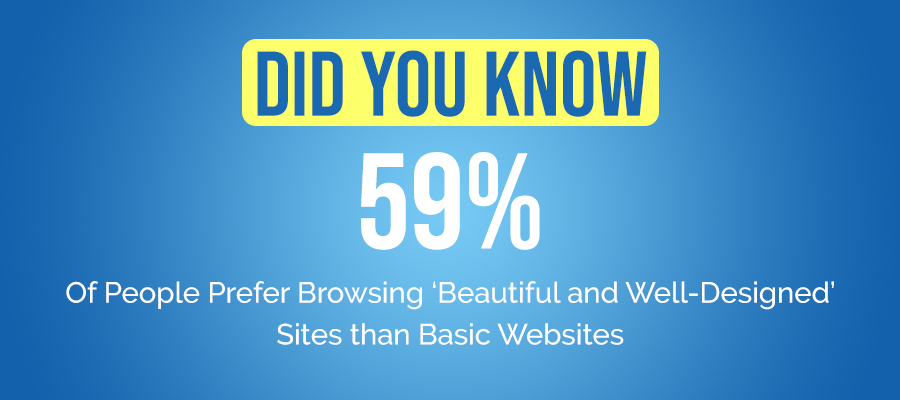 Things To Consider Before Planning a Website Design
What is Website Design?
Website design refers to the overall outlook, functionality, and visual aesthetics of a website. How do your users perceive your website? The website design indicates all the UI aspects of your website.
What is a Good Website Design?
A user-friendly website that offers higher utility to its users; can be considered a good website design. Optimized website speed, seemliness navigation, simple, responsive, clear design, and organized site structure are some primary features of a professionally designed website.
What is Custom Website Design?
A custom website design allows brands to get a website design with a tailor-made outlook and UI to meet a particular website goal. Custom website design makes a branded website that makes website looks truly belongs to a particular brand.
Hiring a website design and development services allows brands to get a branded-looking website with a customized look and capabilities!
Why Website Design Matters?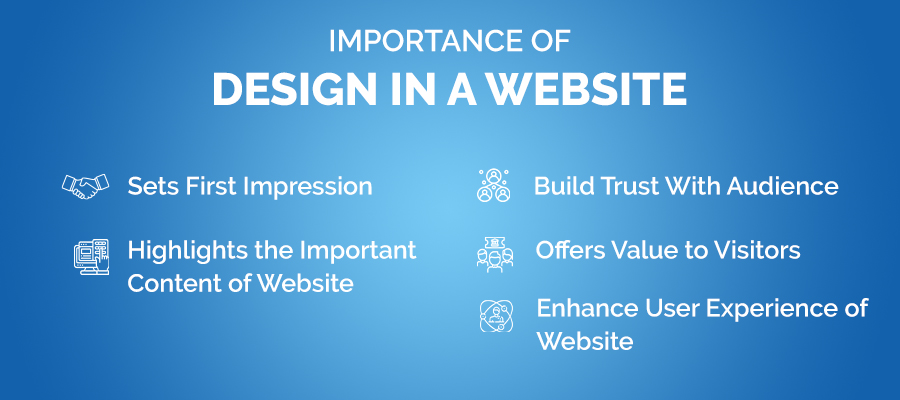 It Creates a First Impression 
Nowadays, people judge a brand through its websites and the impression of a website happens based on its design. Here the importance of web design lies because 50% of internet users make opinions about a brand based on its site's design.
Helps To Create Sustainable Search Engine Optimization (SEO) Strategy
SEO is a core digital marketing technique that makes a brand's website visible and easily findable. This search engine marketing technique markets brands' websites and helps brands to generate more leads and boost brand reach by attracting web traffic.
This organic marketing strategy works well on websites with user-friendly, responsive website design. In other words, The better the website design, the higher rank on organic SERP results.
Most brands are now ready to hire custom website design service experts to prepare web design for marketing. Because a good design website creates ease in marketing. You will be happy to know that more than 70% of brands invest in website design to stand out in the target market.
It Promotes Positive Impression About Customer Services
We all know, that a bad website design impacts UX and hampers the brand reputation. A study revealed that more than 80% of customers leave a site or switch to an alternative option after experiencing bad UX on a website.
That is why design is critical for a website as it passes on the promise to the target buyers to offer something incredible from the brands' end.
Hence, hiring a skilled team of web designers is critical to building a website with professional UI design.
Good Website Design Makes Websites Credible To Target Audiences
Most people surf on internet use internet whenever they search for a solution or a look to know more about a brand. Hence, the quality of a website design plays a vital role to make a brand trustworthy and credible.
Your Competitors are Doing It
'70% of brands invest in website design to stand out in the target market- we have brought this to light once more. This is self-explanatory that your competitors in the target market are trying hard to get noticed with a mind-blowing website design.
Don't take the back seat; get your free consultation now with the best web design services.
Best Website Design Creates Consistency in Online Presence
Unplanned website design creates inconsistency in the overall website and leaves a negative impact on viewers' psychology. Consequently, people may start doubting The brand's ability to solve their problems.
That is why, taking a custom website design service is unavoidable to put all features to your brand's website.
5 Important Elements of Effective Website Design
Here are the most important elements of A website design that makes customers adore your website's design.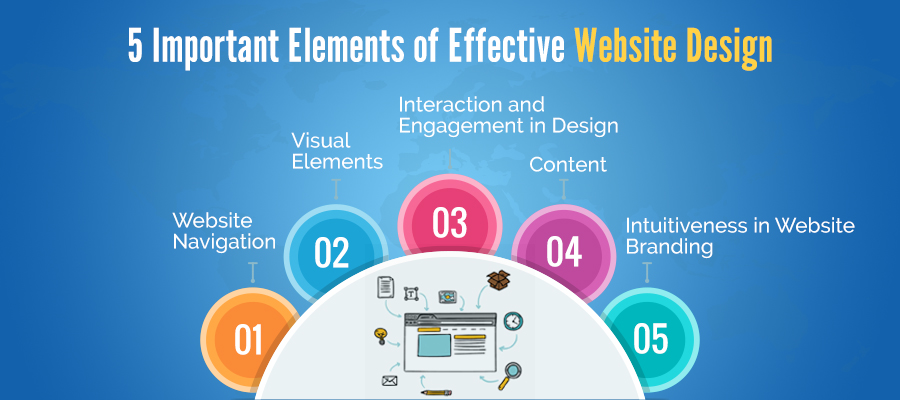 Website Navigation
Easy navigation of a website allows users to access all web pages and scroll around the pages seamlessly without any hassle. Consider creating a site map for your website to plan the seamless structural layout easily.
Visual Elements
The graphical design, images, and fonts are the core part of a website's visual elements. It is better not to use too many overwhelming elements in a website design; rather try to bring out the best using minimum graphical designs.
Also Read: Color Psychology in Website Design
Interaction and engagement in design
The engaging design makes users interact with the website and fulfill the ultimate goal of the UI of a website design or redesign of a website.
Content
Website content is one of the core elements of a good website design. The quality of the content decides how faster users will convert into buyers. The font size, quality of information, appearance, and easy accessibility are drivers of content success.
Intuitiveness in website Branding
Website branding is a concept that users perceive after visiting a website. The intuitiveness of a website turns a mere business website into a brand. Users find a website intuitive when it delivers the right information or offers the exact utility they are looking for.
Hence, intuitiveness and branding, or intuitiveness in branding – whatever you get – is a key element to design good web design to your business.
Are You Ready to Redesign Your Website?
Research and a clear understanding of the goals are important when designing a website. Otherwise, one can't get an appropriate and out-of-the-box website design.
Feeling helpless to find an ultimate solution? Consider trying a free demo of a custom website design service now!