WordPress is one of the leading website-building platforms and a popular CMS option. Study revealed '38,539,556 live websites are now using WordPress' [ BuiltWith]. Its simplicity, flexibility, ease of use, easy theme setting, and users' freedom make WordPress this much popular. It has become a handy tool for setting up a successful online presence for brands.
However, the free themes and features of the free version sometimes work as a barrier for brands to create a branded website to stand out in the crowd. On the other hand, showcasing differentiation in this competitive business world is critical for brands.
Custom WordPress development services play a vital role by helping brands to create a tailor-made WordPress website that truly belongs to those brands. These custom websites create a brand experience for target users. It helps a brand to make an impression of a unique brand image.
What is Custom WordPress Website?
Custom WordPress website refers to a WordPress website tailored to a customer's needs and business requirements. These custom-built websites are made while keeping focus on achieving a specific goal or attention from target audiences. A bespoke WordPress website showcases a brand truly in the virtual realm.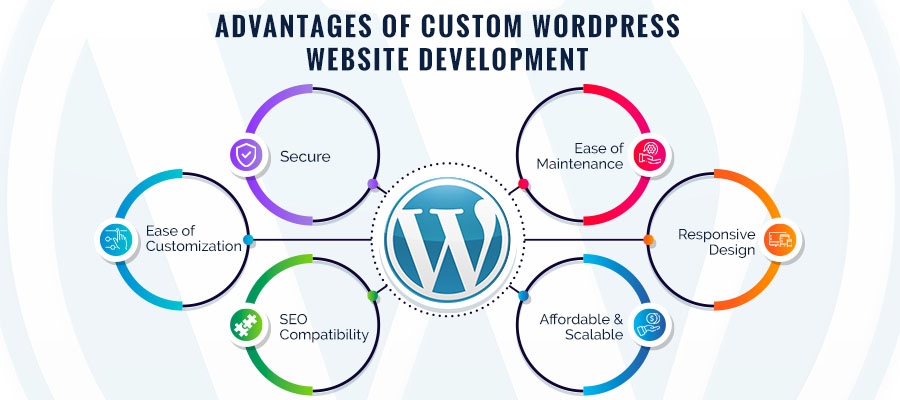 What are Custom WordPress Development Services?
A WordPress development agency builds custom WordPress websites for brands as per their personalized choices and needs. They design and develop a website with custom-built WordPress templates that fit a specific need of a brand.
Starting from theme development, custom design, and plug-in development to API integration, custom WordPress designers offer everything.
Also Read: Why is Web Design Important For Your Audience?
How Do Tailor-made Word Press Solutions Help You to Grow Your Business?
Here are some core benefits of using a bespoke  WordPress website that gives value to your brand's online presence and helps you to earn social proof of a promise of delivering quality.
Customizing your WordPress website
Custom WordPress development services will able you to own complete control over the design and functionality of your WordPress websites. You can bring customized effects on the overall design while keeping them aligned with your business goal and website's branding requirement. These features you can't get in a prebuilt template.
What will you get?
A cost-effective branded website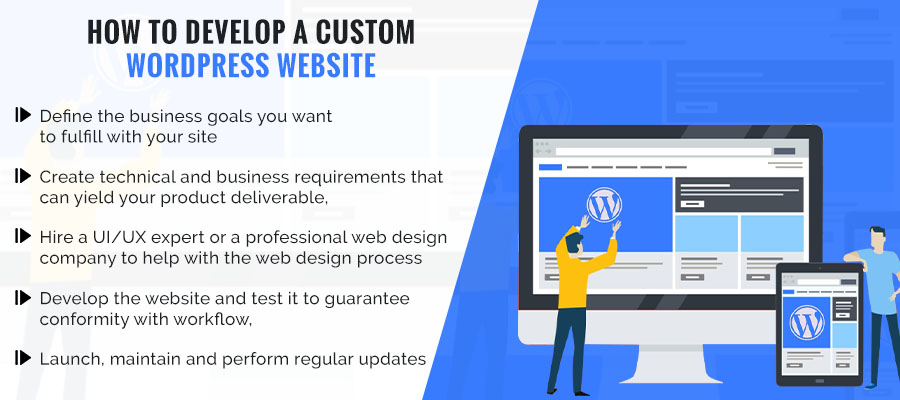 Optimizing your WordPress site for search engines
You have already chosen WordPress for its SEO-friendly structure, which we know. Let us share some more amazing news that you can optimize the overall SEO structure further with an SEO-friendly custom design.
Professional WordPress development companies use the best SEO practices. These include using clean codes, advanced site structure, the responsiveness on multiple devices, restricting URLs, Meta tags, optimizing loading, and AI integration.
What will you gain?
    Increased website visibility with an improved SEO score
Enhancing user experience with plugins and themes
Professional custom WordPress development services will offer streamlined integration of third-party web applications, plugins, CRM, and data analytical tools. It will make your website scalable to changes with the requirement of your growing business. It will prevent growth stagnation caused form scarce resources and limitations of technological uplift.
Tailor-made websites also save you the cost of purchasing expensive plugins and frequent up gradation of the existing system.
What will you get?
An advanced website with inbuilt scalable features
Scope of innovation with Insightful customer data
Implementing security measures in your WordPress site
Security features are one of the critical elements of the online business. It showcases a brand's quality in user experience and brand experience. The developers of custom WordPress development services carry out frequent updates and patches and integrate security plugins. It will keep your website or online store form malware, cyber threat, and any kind of vulnerabilities.
What will you get?
A highly secured website
Trust and credibility of users
Utilizing analytics and tracking tools for better insights
Professional WordPress development solution helps you to leverage the power of the analytical and tracking tool. It will help you to track customer behavior, conversion rates, KPIs, and website traffic and make a data-driven decision that aligns with your goal.
What will you gain?
Innovative ideas and insights to make good decisions
Leveraging social media integration for increased reach
A Custom WordPress development agency will help you to leverage social media integration to increase reach. It will integrate leading social media platforms into your WordPress website. This will enhance your website's reach and let you market your website in front of target customers across the globe.
What will you gain?
Increased online presence
Enhanced brand reach and engagement
A WordPress website with high ROI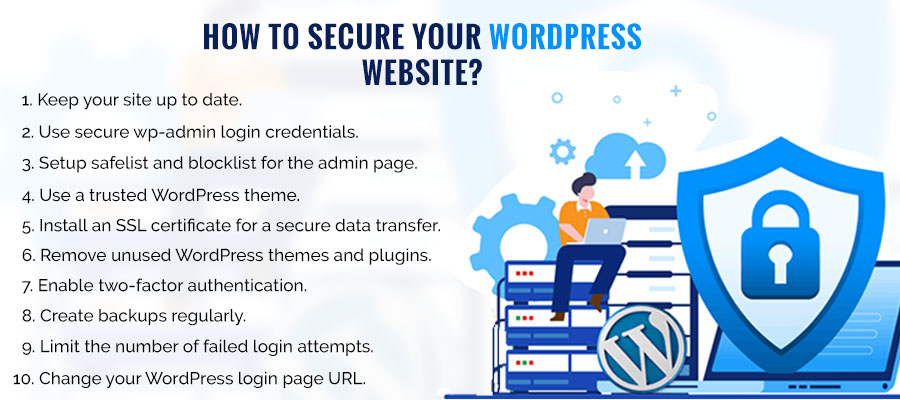 Are You Ready To Hire A WordPress Website Development Company?
Switching to better B2B services is the way to exceed your client's expectations. The journey of overall betterment of your brand starts with an investment in a customized website. It lets you offer the best tailor-made experience to your customers.
Custom WordPress development services boost the efficiency of the functionality of a WordPress website and leverage the full potentiality of its CMS. To know the shape or reshape of your WordPress website, contact us today to book a free consultation!