In the last few decades, the e-commerce industry has experienced a surge in growth. Because of the internet's power, most individuals today consider online shopping to be their first choice if they need to buy something. It has almost completely superseded traditional shopping methods.
E-commerce solutions have progressed from small-scale business to webpreneurship. There's no greater moment than now to dive into this exciting market.
While the e-commerce business offers numerous benefits, it has also been a hotbed of cybercrime and a primary target for cybercriminals. Many unlawful internet transactions and security breaches threaten the industry.
It's not easy to keep your e-commerce business safe. There are simple yet effective methods for safeguarding your store from internet fraudsters and ensuring the privacy of your customers' information.
Here are some easy-to-follow guidelines for safeguarding your online business and preventing cybercrime in any way possible from expert bespoke e-commerce solution providers.
Obtain an SSL Certificate
This ensures that all sensitive information, such as credit card and bank account numbers, is transported across the network in an encrypted format. Data that is encrypted is less likely to be intercepted, making it more difficult for hackers to get access to your store. An added benefit is that websites with an SSL certificate rank higher in search engines and receive more online visitors.
Make a security investment
Make a point of allocating some of your resources and time to security. Protect your online store with a firewall and penetration testing software. Rather than purchasing many tools to address each security requirement, invest in a single piece of software that has advanced features to protect your website.
Update, scan, and create a backup
Make sure that all of the software is up to date and that everything is working properly. CMS, plugins & extensions, themes, operating systems, tech stack, and so on should all be updated for a smooth ecommerce solutions on a regular basis.
Additionally, search for malware and other signals of danger on a regular basis. According to IBM, it takes an average of 197 days for a company to detect a breach! The hacker has 197 days to delete all data and put your organization in shambles. Scanning at regular intervals can assist you not only find the hack, but also remove it while there is still time.
After that, make a complete backup of your data.
Make Your Business PCI Compliant
The PCI SSC was formed by major credit card firms from around the world (including American Express, Mastercard, Visa, Discover, and JCB) (Payment Card Industry Security Standards Council).
They've established the PCI-DSS (Payment Card Council data security standards) as a collection of principles for firms to follow in order to avoid fraud.
It is made up of twelve primary requirements and various sub-requirements that evaluate a company's security procedures. These rules are closely followed for a variety of reasons.
Use AVS to verify a customer's identity and address.
Fraud orders can be detected by verifying the customer's identity and address. You can do this with the help of an AVS (Address Verification System). By comparing numerical values, an AVS compares the billing address to the address contained in the credit card company.
Read: 3 Solid Reasons to Choose Custom Ecommerce Solutions
CVV Verification for Secure Payments
The three or four-digit figure on the backside of a credit card is known as the Card Verification Value (CVV). The CVV value is required to guarantee that the individual making the transaction genuinely owns the credit card being used. As a result, even if hackers obtain the credit card number, the transaction cannot be completed.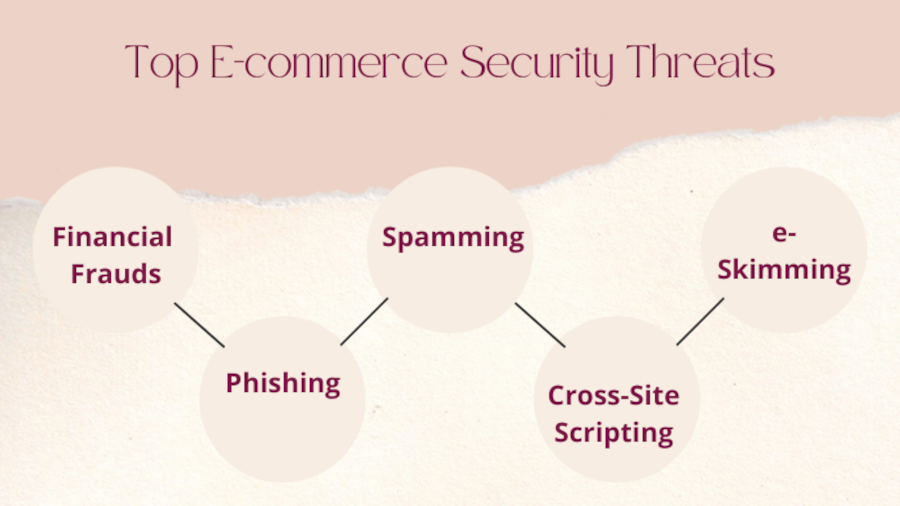 Install Anti-Fraud Software
You could also scan and identify fraudulent behavior in your store using anti-fraud technologies. Proxy discovery, browser device fingerprinting, geolocation, and more are all possible with these  anti-fraud technologies available to safeguard the functioning and safety of your e-commerce solution or say website.
Summary
It only requires a cautious implementation of e-commerce security measures to conduct business without fear. Follow the advice in this blog and your e-commerce will be safe.